Yes, colored tattoos look cool.
But something about blackwork tattoos is way too much attractive.
Now, you might be wondering what the blackwork tattoos are. Well, their origin is hidden within ancient tribes. Many tribes have been tattooing concrete and abstract shapes on their skins to represent their culture and tribes for centuries.
To Simplify, any tattoo with black ink ( without any gray and other colors shaded in ) is a blackwork tattoo. The Polynesian pieces, with their abstract shapes, patterns, and swirls are one among many examples.
If you are intrigued by these styles and meaningful blackwork tattoos, go through this article to find out some great references.
1. Blackwork Traditional Tattoo
Blackwork tattoos are classified by the use of black ink on the tattoos. But when the elements from a particular tradition or culture are added to it, we get a traditional blackwork tattoo. Elements such as Dark Arts, Engraving style, Calligraphic scripts, and more are added to the tattoo.
Sometimes tattoo artists cross over between the American and Japanese tattoo elements to come up with an amalgamation of both cultures. If you love to stick to the tradition and c culture, even, in your tattoos, that, too, in black, then these are worth choosing a style.
2. Japanese Blackwork Tattoo
Japanese tattoos with solid blackwork – yes, that gives you a body stare at. You can tattoo traditional Japanese arts or ancient dates, and Japanese words on your skin. Even Japanese calligraphers in the form of tattoos can be great.
These tattoos are adaptable in size and they fit anywhere on your skin. So, if you are thinking of Japanese blackwork tattoos, admittedly, you have great taste.
3. Blackwork Tattoo Sleeves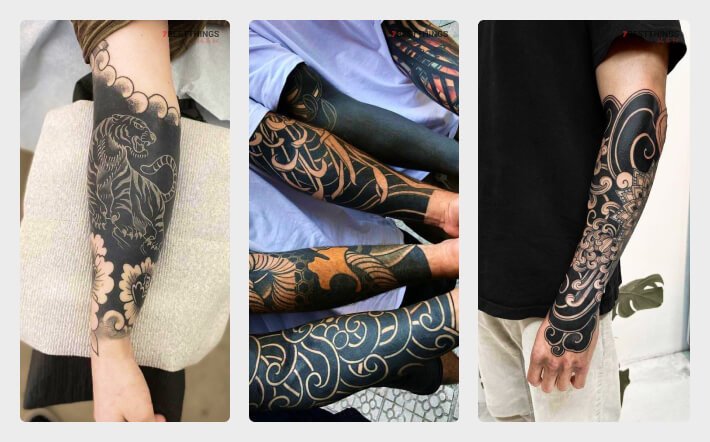 Yes, Pure blackwork tattoos on your sleeves, and it is awesome. If you love to think of your sleeve covered with pure black ink and incredible designs, then a full-sleeve blackwork tattoo is what you deserve. You can add elements from traditional, tribal, or Japanese tattoos to your sleeve. Here is just a fraction of what your awesome tattoos may look like.
4. Tribal Blackwork Tattoo
Although the Blackwork tattoo trends have been more prominent in recent years, they are not new. Obviously, it is not another passing trend. They have been around for quite a while. Some Celtic, traditional, and geometric shapes in the form of tattoos are common among tribal tattoos.
These tattoos hold different legacies, stories, traditions, and profound meanings. The Hawaiian tribal tattoos have different elements such as Enata, Tiki, Shark tooth, turtle, Lizard, and more. Each of their sand for a different meaning. On top of that, your skin gets pure black ink to design all these meaningful tattoos. Here are some you need to take a look at –
5. Blackwork Negative Space Tattoo
The best thing about the blackwork tattoos is that they don't add any other colors, or grey tones. It is a black tattoo on your skin. When blackwork inks leave out spaces on your skin, it creates a mystery. You can ink your whole skin and leave out only a little space, creating a visual story on your skin. They look the best on your arm and, back and legs. Here are some I would recommend –
6. Geometric Blackwork Tattoo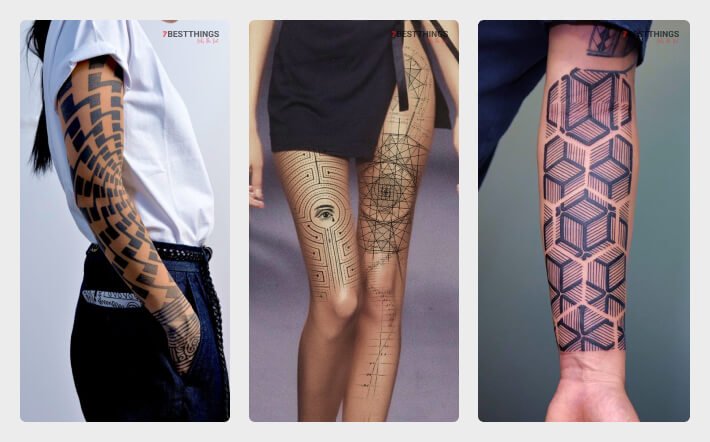 Geometric Blackwork tattoos create style, hypnotism, and a worldly statement on your skin. They give you a body to behold. If you are thinking of getting different geometric shapes tatted on your skin, make sure to book an appointment with an expert. These tattoos require lots of patience, and skills due to their intricacies. However, you can surely go for some of these styles –
7. Minimalist Blackwork Tattoo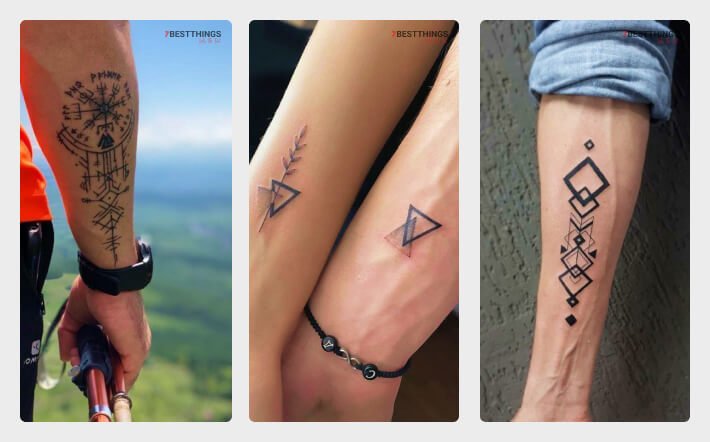 There is no need to go full body or get tattooed with some of the most complicated tattoo designs. You can make the blackwork shine through minimalist styles if you are a minimalist. Here are some minimal black work tattoo suggestions –
Frequently Asked Questions (FAQs):
I hope this article was helpful. However, if you have any further queries, perhaps, these questions and answers might help –
1. What Does Blackwork Tattoo Mean?
➥ The ancient Polynesian tribe used full-body all-black tattoos to communicate their identities. Even their social standing and lineage were expressed through tattoos. Some of these tattoos meant their religious belief and other ideas and warfare.
2. Is Blackwork Tattoo Painful?
➥ Blackwork tattoos, unlike other tattoos, are more painful when you get them done on your skin. Compared to the other designs, they take multiple needling for better coverage and the right saturation of black. This can make your skin feel pain both during and after getting the tattoo done.
3. Does Blackwork Tattoo Last?
➥ Compared to gray and other colored tattoos, the blackwork tattoos stay for longer on your skin. If done by experienced professional artists, the tattoos may last for more than 15 years. These tattoos don't need touch-ups from time to time.
Bottom Line
When it comes to aesthetics, cultural representation, and longevity, Blackwork tattoos are one of the best options. You have a limitless array of selections to pick up for. Also, you can personalize them as much as you want. You can adapt any style and concept to your tattoos. Also, these tattoos pop on any skin color.
I hope that this article was helpful. However, if you have any further queries you can ask us in the comment. We will get back to you as soon as possible.