Do you follow Shark Tank? Bombas has been one of the most successful ventures to appear on the show. Backed by extant research and development, Bombas socks have become synonymous with comfort.
Further, the company operates with a noble cause. Once you buy a pair from Bombas, it donates a pair to one in need.
While doing Bombas socks reviews, I found the pairs to offer exceptional arch support. Further, they keep the calf tension minimal.
So, I have curated the 7 best types of socks from Bombas for you and everyone who wants to keep their feet at ease.
Why Are Bombas Socks Unique?
By now, we know that Bombas socks are made with a great cause in mind. However, what will I get from the socks as a user? Here are the reasons that make these pairs different and in demand.
Design And Ergonomic Construction
You cannot expect a tailored experience from every pair of socks you wear. Bombas shines exactly in this factor. It has elevated the art and science of making socks.
So, today, when I wear a pair of Bombas socks, the hugging effect I feel around my middle foot is matchless.
The standout features of these socks are a honeycomb arch support, a Y-stitched heel, and a seamless toe.
Comfortable As Your Second Skin
Comfort is the key behind the popularity of Bombas socks. So, when I wear a pair, my feet remain breathable, offering a gentle touch against the skin.
Bombas socks are comfortable because they are made of the softest long staple yarns sourced from the best cotton and merino wool.
You Will Find The Right Size And Fit
Bombas understands that there is no one-size-fits-all solution for socks. So, while exploring the options, I found that each type has around three to four size options.
So, you can find the pair that fits you the best, and having a well-fitted pair can make your day, especially while spending your time outdoors.
Best Bombas Socks You Can Try For Yourself
Bombas socks are value-for-money products comparing the price range and the quality you get. Most of the socks come in the price range of $13 to $30.
So, what are the best ones among the vast socks collection Bombas has? Let's find out.
Bombas Compression Socks
Bombas compression socks come with a higher price range. Starting from $20, the cost of a pair in this category can go as high as $108.
If you explore the different types of compression socks Bombas have, you will find out that each pair comes with unique features.
For example, "Men's Everyday Compression Socks" stand out due to the Y-stitched heel, extra-long-staple cotton, and 15-20 Mmhg compression level.
Similarly, "Women's Everyday Compression Socks" come with exclusive features like strategic zone cushioning, seamless toe, and honeycomb arch support system.
Bombas Socks For Men
Are you looking for socks for men? You have a wide collection to make your pick from. From compression performance socks to running socks and tennis socks, each pair is designed keeping the functionalities required in mind. 
One of my favorite picks in the collection is the "Men's Merino Wool Blend Performance Ankle Sock." It has a blister tab. This tab functions as a soft cushion and ensures that your heel is not chaffed or does not have blisters in contact with your shoes.
The honeycomb arch support keeps your feet at ease, while the perfect contouring ensures a great fit for your feet.
Bombas No Show Socks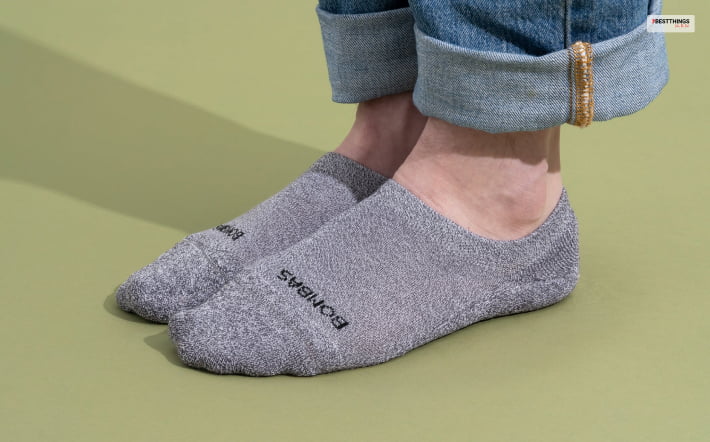 Do you need the most stylish and comfy no-show socks? Try the ones from Bombas. The no-show socks for men and women in the collection are light in weight, and because of their low height, it's almost like wearing no socks.
Especially the "Women's Low-Cut No Show Socks" I use fit me like my second skin. I love its seamless design.
The pair is also very soft because of the premium staple cotton it is made of.
If you are looking for a no-show pair for men, you can definitely try the "Men's Cushioned No Show Socks." As the name suggests, the extra cushioning on the heel offers additional support to your heel. Further, the heel grips ensure the socks do not slip inside your shoes.
Women's Bombas Socks
The collection of Bombas socks for women is versatile. From calf socks to ankle socks, you will find a lot of variety in the length. Further, in terms of functionality, you have performance and running socks for you.
The one pair you must watch out for in this collection is the "Women's Lightweight Running Ankle Socks." Its standout feature is the blister tab, protecting the heel from direct contact with the shoes.
Bombas Slipper Socks
You must be familiar with the concept of slipper socks. The ones from Bombas keep your feet comfy and cozy without any risk of toppling over.
The one that I have picked from this range is the "Women's Gripper Slipper – Sherpa-Lined." The pair is the most comfortable one in the collection, thanks to the use of soft Sherpa knit fabric inside the socks.
The grips are also very helpful and keep me during movements.
For men, there are the fair-isle double cushion slipper socks. These are comfortable with a plush inner lining and will surely impress a connoisseur of vintage fashion.
Bombas Calf Socks
Do you want to check out the section on calf socks for men? You can pick a pair of "Men's Marl Calf Socks" for the ultimate comfort of your feet.
Along with multiple color options, you will get a seamless toe design and cushioned footbed for this pair. Further, the honeycomb arch support system will protect your feet.
For women, there are "Women's Hybrid Ribbed Calf Socks." This pair also features a seamless design and additional arch support.
However, its uniqueness lies in the perfect elasticity it offers. It's not too tight, not too loose, just a perfect fit!
Bombas Socks For Kids
You will drool over the collection of Bombas socks for kids. The "Baby Gripper Socks" are colorful, and the cushioned footbed offers optimum comfort for those tender feet.
Made of extra-long staple cotton, the socks also offer a gentle touch against the skin.
You will further get a range of calf-length socks and ankle-length socks in the collection.
Final Words: Are Bombas Socks Worth It?
Yes, Bombas socks are surely a good purchase if you want proper support for your arch and optimum comfort. The colorful designs of the socks and knitting style also score quite high on the fashion meter.
So, get a pair for you and help Bombas donate a pair for the one in need!
Also read