Fret not after that tumultuous Bridgerton season 2 finale: Lady Whistledown will write again. Netflix announced way back on April 13, 2021, that it had already renewed the dazzling period romance for both a third and fourth season, just as the highly anticipated second season began filming in the U.K.
Therefore, read this post after watching Bridgerton to learn more about Bridgerton Season 3!
What Will We See On Bridgerton Season 3?
Bridgerton season 3 will focus on Penelope, aka Lady Whistledown, and Colin Bridgerton's (Luke Newton) romance, Coughlan confirmed during the FYSEE panel on May 15, per Variety.
In an official synopsis, Netflix revealed that:
"Penelope Featherington (Nicola Coughlan) has finally given up on her long-held crush on Colin Bridgerton (Luke Newton) after hearing his disparaging words about her last season. She has, however, decided it's time to take a husband, preferably one who will provide her with enough independence to continue her double life as Lady Whistledown, far away from her mother and sisters. But lacking in confidence, Penelope's attempts on the marriage mart fail spectacularly. Meanwhile, Colin has returned from his summer travels with a new look and a serious sense of swagger. But he's disheartened to realize that Penelope, the one person who always appreciated him as he was, is giving him the cold shoulder. Eager to win back her friendship, Colin offers to mentor Penelope in the ways of confidence to help her find a husband this season. But when his lessons start working a little too well, Colin must grapple with whether his feelings for Penelope are truly just friendly. Complicating matters for Penelope is her rift with Eloise (Claudia Jessie), who has found a new friend in a very unlikely place, while Penelope's growing presence in the ton makes it all the more difficult to keep her Lady Whistledown alter ego a secret."
This direction marks a departure from the order of Quinn's books; in the written series, the next Bridgerton to get the lead treatment is Benedict (Luke Thompson), who takes center stage in An Offer From a Gentleman. The story pulls heavily from Cinderella lore: Benedict falls for one Sophie Beckett, an earl's daughter forced into servitude by her hateful stepmother. The Colin-focused book, Romancing Mr. Bridgerton is fourth in the line-up.
Bridgerton Season 3: Why Is The Focus On Penelope?
Jess Brownell, who will succeed Chris Van Dusen as showrunner for season 3, explained the change in chronology to Variety.
"I really feel like it's Colin and Penelope's time. Because we've been watching both of these actors on our screens since season 1, we've already invested in them a little bit. We know who they are as people. I feel like, especially in the last season, there are these moments of tension between them where it's like, Colin walks up to the line of almost realizing that Penelope has feelings for him but doesn't quite get there. Instead of treading water on that dynamic, we wanted to push it into their season. It really felt like the perfect moment to tee it up."
Coughlan already knew about the season 3 plans since "two weeks into filming season 2," she told E! News, "so I had a lot of time to adjust to it." The actress also joked about whether she's ready to film sex scenes: "I'm gonna have to be!"
As for why it's taken as long as it has for the two friends to share their feelings, Newton said in an official Netflix clip that he thinks "there's a lot going on where they can't really see what's right in front of them."
Apart from the romance at its focal point, season 3 will certainly delve deeper into its juicy subplots as well. At the end of season 2, Eloise had finally learned her best friend's identity as Lady Whistledown; Jessie promises the fallout is unlikely to dissipate any time soon. She said, "I think Eloise won't tell anyone [Penelope's secret]. I think Eloise will continue to be a good mate and not tell anyone because what does Eloise gain, really? I do think they'll make up, but I don't think it's going to happen quickly."
Bridgerton Season 3: Is The Same Cast Returning?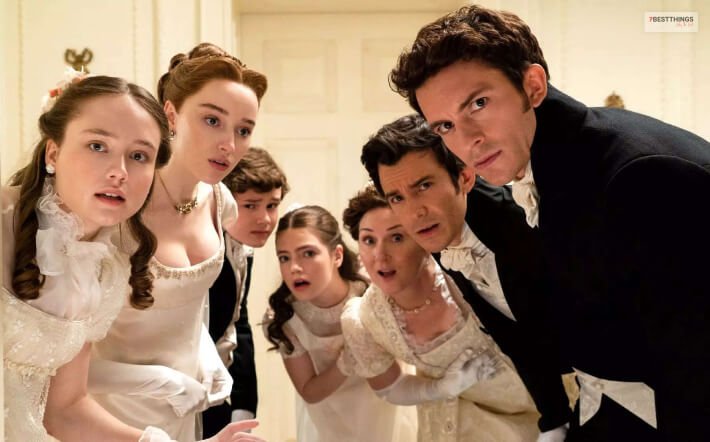 After Page famously departed Bridgerton following his season 1 run, citing his completed arc and one-season commitment to the series, many fans might be wondering if Bailey, Ashley, and other new favorites will return for the third season. Thankfully, Ashley confirmed to Deadline that both she and Bailey plan to participate. "We're going to be back! Kate and Anthony are just getting started," she told the outlet, adding, "I'd like to see Kate just let go a bit more and play more in season 3 and kind of swim in that circle of love together. I think they both deserve it."
Other cast members who've yet to explore their own romances are expected to return as well, including Penelope, Eloise, Colin, Benedict, and more. In an interview with ELLE.com, Jessie revealed she has every intention to play Eloise "for as long as they'll let me. I'll happily be doing this way into my 40s."
But expect plenty of newcomers as well. Hannah Dodd (Anatomy of a Scandal) has been cast as Francesca Bridgerton for season 3, replacing actress Ruby Stokes, who exited to work on Netflix's upcoming Lockwood & Co. series. Variety reported the news on May 12, following the character's noticeable absence in the second season. "I love Francesca, but we lost her midway through season 2," Chris Van Dusen previously told TVLine. "After exhausting all other options, she unfortunately had to come out due to reasons beyond our control."
Netflix also announced multiple other new additions to the season 3 cast: Daniel Francis (Stay Close) will play Marcus Anderson; Sam Phillips (The Crown) will play Lord Debling; James Phoon (Wreck) will play Harry Dankworth; and Hannah New (Black Sails) will play Lady Tilley Arnold, "a firebrand widow," per Deadline.
Conclusion: When Will Bridgerton Season 3 Come Out?
So far, there's no word yet on when the next installment will land—only that it is, in fact, forthcoming and currently in production. Season 2 premiered a little over a year after season 1, but given that production was slowed by the pandemic, it's possible the creative team might hasten season 3's development. If so, we could look at a spring 2023 debut date for the next chapter.
Read Also: