We learned from the past 2 years that the market dynamics could change anytime without warning. The Covid19 lockdown restrictions have helped us see some drastic shift in the market demand. The hospitality industry plummeted so bad that many of us had to think about starting new business ventures.
Now, if you are looking for some good business ideas, you have come to the right place. We have shortlisted some practical and doable business name ideas on this list. We have researched the market and found these ideas to be the most demanding.
What Are Good Business Ideas?
We must assess the competitors, conduct thorough research on the market, and find out the target customers to write our business plan. So, if a business idea has all the elements of a business plan carefully written, we can go for those. On the below-mentioned list, we have included some of the best business name ideas. Let's find out:
1: Online Teaching
One of the best business ideas on our list is the online teaching business. We have indeed noticed the rising demand for online education due to the pandemic restrictions. So, why not grab this opportunity, and start earning money for yourself? 
You must be good in one subject, at least right? So, just select students of a particular age group, and publish your coaching ads on your social media. There are plenty of online job sites also that will allow you to find students. If you think you are not good at any subject, you can always teach English to overseas students.
Job Sites
Uteach

Chegg

Buddy School

Udemy

Tutor Hub
Also Read: Top 7 Best Business Statistics For Your Business
2: Content Writing
As a freelance content writer myself, I can tell you how profitable this is on the list of business ideas. If writing unique pieces of articles is your forte, you can go for the content writing business. You simply need to write a few blogs and post them on Facebook to catch the eyes of possible clients.
If you are lucky, you will be in touch with expert digital marketers who always look for freelance content writers within a few days. If not, just be patient for some days, and keep on posting content. You are bound to find some reliable customers from social media channels. 
Job Sites
Fiverr

Upwork

FlexJobs

Textbroker

Contently
3: Stock Photography
I bet none of the business ideas can beat the idea of a stock photography business. If you have a good eye for things, you can always start your stock photography business. With a good megapixel in your phone camera, you can capture some unique pictures. Then, you will upload them on some sites to find your prospective buyer.
If people download your pictures from their sites, the sites will give you royalty. Of course, you can also create your website and sell photos directly to customers. But, there are plenty of journals and magazines out there that are waiting for photographers like you. So, take a shot at this idea, and see it yourself.
Job Sites
Shutterstock

Getty Images

iStock

Westend61

Depositphotos
4: Translation Service
One of the best business ideas to start a venture without any investment is to be a translator. You can't even imagine how demanding this industry is. People are always looking to hire language experts. If you know more than one language, this idea will always keep the cash coming into your bank account. 
If you are fluent in English, just check how many English Translator jobs are available there. You can also post your language skills on your social media bio, and clients will contact you themselves. If you are a native French, German, Spanish, or Italian speaker, trust me, there are ample options for you as well. 
Job Sites
Gengo

Unbabel

TextMaster

ProZ

TranslatorsCafe
Indeed sometimes people think starting one's business is much of a strenuous task. So, why not utilize your driving skill to earn some cash this time? You can also become a small business owner once you have got some good customer feedback on your name. 
One of the best business ideas to dip your toe in the ocean of Entrepreneurship is the rideshare business. First, you can decide for yourself how little or how much you want to work. Then, you can schedule your driving hours, and the rideshare business sites will take care of the rest. 
Job Sites
Uber

Lyft

Carma

BlaBlaCar

Ridejoy
6: Petcare Service
If you love to spend time with dogs, it's time to turn your hobby into a money-making machine. It is another one of the easiest business ideas on our list to start without investment or talent. People love their pets and often hesitate to leave them at pet creche when they leave for office. 
You will spend time with your client's dogs, cats, or other pets. You will feed them, bathe them, play with them, take them to walk, etc. Looks effortless, right? Trust me, it is. You can spread the work in your neighborhood yourself, or you can post your duty hours on social media. You will get clients in no time. 
Job Sites
Rover

Wag

FetchPetCare

NAPPS

Care.Com
7: Graphic Design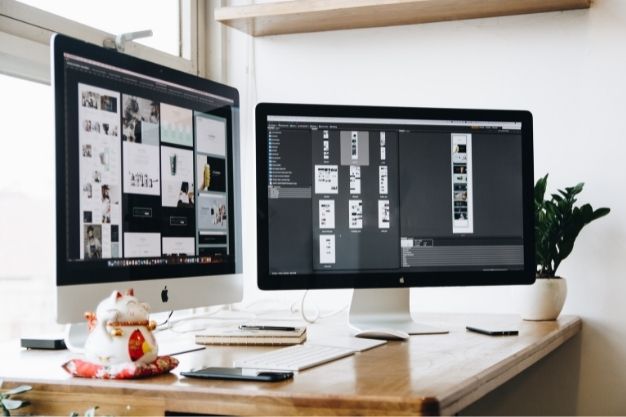 Last but not least, we have the business idea of a graphic designer for you on the list. Every company is looking to hire good graphic designers to design its promotional materials. But, unfortunately, the professional graphic designers in the market take a lot of money and time to create one logo.
So, this is your opportunity to initiate a small venture yourself. First, promote your graphic design works on social media and give clients some good deals at lower fees. Then, start creating some visually attractive flyers, posters, and digital ads for them, and expand your business in no time.
Job Sites
Upwork

Freelancer.Com

Dribble

99Designs

Fiverr
Wrapping It Up
If you are reading this far, I bet you have found some good business name ideas on the list. Let me tell you one more thing; all these ideas require almost zero investment. So, opting for these is the best option you have now. If you are interested in any of these ideas and want to know more about them, you can always ask questions at the comment box below. 
You May Also Like: