You are wrong if you see "healthy pasta recipes" as oxymorons. I understand you have a new diet and a freshly boosted workout regime. However, with smart tweaks here and there, you can have a veggie or lean-meat-loaded pasta bowl that's actually healthy.
So, it's time to actually dig into some pasta recipes that balance health and taste and take 30 minutes at the max.
7 Healthy Pasta Recipes You Must Try In 2023
I kept a few things in mind while looking for easy, healthy pasta recipes for you. I made sure that the carb intake should be less than 50g and that the overall calorie count should not exceed 500 calories. The dietician I consulted has helped me a lot in curating these recipes.
Further, in most recipes, I have totally chucked off the use of whipped cream and parmesan cheese. Also, in some cases, I have gone for alternatives to conventional pasta.
Let's check out the recipes.
1. Roasted Mediterranean Pasta With A Veggie Overload 
Caption: Mediterranean Healthy Pasta Recipe
Calorie Count: 464 Kcal
Cooking Time – 20-25 Minutes
Are you looking for healthy pasta recipes to lose weight? The first one to strike me is the Mediterranean-style veggie pasta.
There are many ways to make this pasta bowl; you will also find many vegan versions. You can watch this video to make a vegan version of this recipe.
Video for embedding:
Else, you can try how I cook the meal.
Cut onions, yellow peppers, eggplants, and zucchini into cubes.
Then, sprinkle some oil on an oven-proof pan.
Put the veggies with cherry tomatoes and crushed garlic in the pan for around 15 minutes.
Cook the pasta separately and take the veggie mix from the oven.
Next, mix the veggies and drained pasta and give a good stir gently.
For flavoring, add pepper and basil leaves.
Expert Tip:
Use wholewheat pasta for the recipe. This dish has close to 16g of protein and around 49.2g of carbs. Also, it has nearly 13g of fiber, which is around half the ideal fiber intake for you each day.
2. Light Lemon Pesto Pasta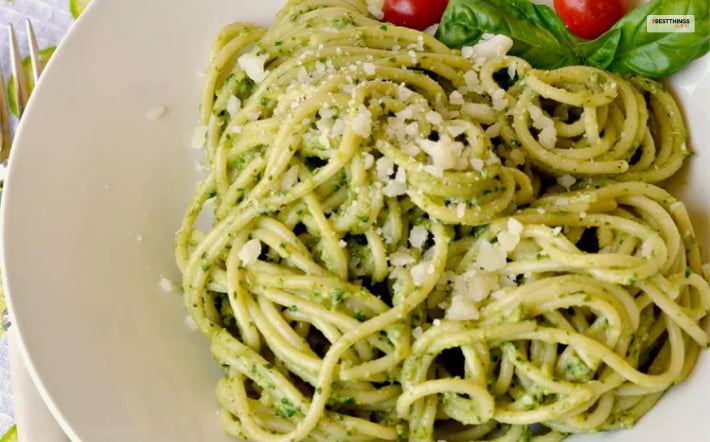 Caption: Light Lemon Pesto Pasta
Calorie: 465 Kcal
Cooking Time: 15-20 Minutes
Your search for "healthy pasta recipes pesto" ends with this light lemon pesto pasta recipe.
Pesto pasta is a sensation, and you will have endless recipes on YouTube like this one.
However, I love the light lemon version for its zesty kick. Want to know the recipe? Have a look at the step-by-step guide.
First, boil the pasta for around 10 minutes. The pasta should be tender but have that "bite."
Now, it's time to make the pesto. I have made a vegan version of pesto to avoid the use of parmesan cheese.
I make the pesto sauce with lemon juice, basil, salt, pepper, pine nuts, garlic, and olive oil.
Once the sauce is ready, pour it on a pan drizzled with olive oil.
As the sauce becomes thick, mix it with the boiled pasta.
Expert Tip:
Mix the pasta and sauce well so that the coating is perfect. You can use pine nuts a little if you completely omit the use of parmesan cheese.
3. Lemon Parsley Chickpea Pasta 
Calorie: 300 Kcal
Cooking Time: 25-30 Minutes
It's a double delight for a pesto pasta lover. Made of chickpea flour, chickpea pasta is the healthiest. Also, you can get them in any shape you want, including penne, rotini, and spaghetti.
Did you know chickpea pastas have already appeared on the Drew Barrymore Show?
Here's my version of the recipe. Let's find out.
First, cook the pasta and drain it well.
Next, you need to make a puree. Put garlic, parsley, salt, pepper, olive oil, and lemon juice in the food processor to mix everything well.
Roast the cubes of carrots and beetroots in the microwave for around 1 minute.
Then, sprinkle some olive oil on a pan and toss the pasta and veggies in the pesto sauce.
Serve with parsley garnishing.
Expert Tip
Garlic cloves take time to be uniformly ground. So, before adding other ingredients to make the puree, ensure the garlic is turned into a smooth paste.
Otherwise, you will find chunks of garlic in your mouth.
4. Pasta With Grape Tomatoes And Chicken
Calorie: 330 Kcal
Cooking Time: 20-25 Minutes
My weekend seems incomplete with this delicious combo of spaghetti, sauteed chicken, and grape tomatoes. In fact, it is one of the healthy pasta recipes that take very little prep time.
So, let's find out how to make it.
First, season the chunks of chicken well. I use basil, oregano, salt, and a little bit of red and black pepper. However, you can skip the pepper if you don't want it spicy.
Next, sprinkle olive oil on a skillet and cook the chicken chunks for around 5 minutes.
Keep the chicken chunks in a bowl and get the pasta ready.
As the pasta gets ready, sauté the tomatoes, garlic cloves, and bell pepper in the skillet with olive oil.
Toss the cooked pasta with tomatoes, pepper, and garlic, and then mix chicken and basil.
Serve the pasta with oregano and chili flakes, or you can also add cheese.
Expert Tip
Make sure that pepper, garlic, and tomatoes are cooked well and golden brown in color. Do not burn them. So, be a little careful at this stage.
5. Lemon Chicken Pasta 
Caption: Lemon Chicken Pasta
Calorie: 403 Kcal
Cooking Time: 20-25 Minutes
This is the easiest pasta recipe to try to maintain a healthy diet. Let's share how you can make it.
First, pound the chicken breast; the thickness should not be more than ¼ inches.
Season chicken with lemon, black pepper, and salt, and coat it with flour.
Add 1 or 3 tablespoons of olive oil to a skillet and cook chicken for 2 to 5 minutes.
Get your pasta ready, and during that time, stir a few cloves of garlic in a skillet and roast it for around 30 seconds.
Add some wine and let it get reduced by half.
Next, add lemon juice to the mix.
Mix the pasta with this wine, lemon sauce, chicken, and parsley in a large bowl.
Expert Tip
Don't forget to sprinkle a few drops of lemon juice before the presentation. Balance the tanginess with a pinch of salt and black pepper.
Further, you can add lemon wedges to make the presentation more attractive.
6. Black Bean Pasta With Veggies
Calorie: 255 Kcal
Cooking Time: Around 20 Minutes
This is also an easy one-pot recipe, with black beans being the primary source of protein.
Cook fettuccine whole wheat pasta and drain it well.
Next, sprinkle olive oil in a skillet and add cherry tomatoes, mushroom, garlic, black beans, salt and pepper.
Add spinach in the end, and then add the entire mix with pasta.
Finally, give everything a good toss.
Expert Tip
While using canned black beans, you need to drain them. It is important so that the flavors of other ingredients shine through.
7. Veggie Quinoa Pasta Recipe
Calorie: 362 Kcal
Cooking Time: 25-30 Minutes
There is no strict rule on how to make quinoa pasta with veggies. Still, here is an easy recipe for you.
Get the quinoa pasta shells ready.
Roast a few cloves of garlic in a pan.
Then, sprinkle olive oil on a skillet and sauté corn, green beans, and pepper cubs.
After stirring the veggies for five minutes, you can mix pasta and quinoa with the veggies.
Give the entire mix a good toss with balsamic vinegar.
Expert Tip
Use slices of almonds and basil to serve it.
Final Words
Healthy pasta recipes are not hard to find if you really want to carb the calorie intake. Along with quinoa and chickpea pasta, you can use zucchini noodles to make a nutrient-rich, low-calorie one-pot meal.
So, don't wait anymore. Go Nom Nom without paying heed to the weighing scale. 
Also Read