Healthy nails and nail shapes are important! When your nails are shaped properly, you get the right canvas to be creative with the paints and designs.
But choosing the right nail shape is not just about your aesthetic preferences. It's about the type of hand you have. The size of your palms and fingers will decide which style to pick.
So, here I am to tell you how you can find the best nail shape for your finger.
How to Find the Best Nail Shapes for Different Hands:
See, you can always go for something like almond shaped nails which pretty much suit every finger or hand type. However, if you want to make it more creative or perfect, you need to understand how your palm proportion and finger lengths decide the shape to choose.
Further, nothing is more important than the health of your nails. It's better to avoid nail shapes that put stress on your nail bed. Simple round or oval shapes are known to put the least stress on the nail bed.
One more thing! Pay attention to your diet and have salmon, carrots, beans, and food rich in vitamin C, zinc, biotin, and iron to make your nails stronger and easy to grow. And to keep the shine alive, don't forget to moisturize your nails.
Nevertheless, it's time to learn the smart tips to decide the types of nail shapes.
Long Palm, Long Fingers, and Square Nail Shapes
Generous your hands are if you have long palms and long fingers. And a square is the perfect shape you can get to make your fingers look sexy. Also, the best thing is that the length of your nails does not matter for this shape. Square is a shape that suits elongated and short nails alike.
You will even easily get square acrylic nail shapes if your nails are hard to grow due to some health reasons.
Square nails are great if you have a penchant for funky nail art. Want that grunge in your nails? Cover it with rich and creamy black nail shades just like Kristin Chenoweth did at the "An Evening With Carol Burnett" event.
Long Palm and Short Fingers? The oval is the Nail Shape to Pick
Oval nail shapes work for people with short fingers and long palms. These hand shapes are known as hi-five hands.
When the free edges of your filed nails are tapered into an oval or semi-circle shape, your fingers look longer and slender. Oval is also a great choice if you are looking for "nail shapes short."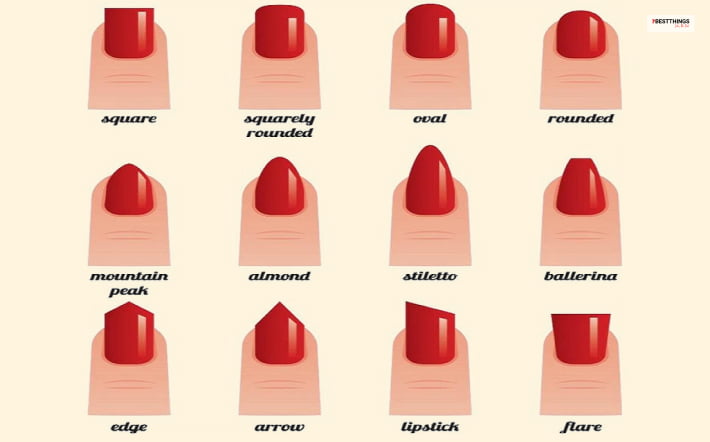 Make the nails look beautiful with nail polishes in feminine pastel shades or some floral nail art.
Long Fingers and Wide Palm: Ballerina or Coffin Nail Shapes
If you have piano hands with long fingers and wide palms, coffin or ballerina nail shapes are worth trying. Everything is very dramatic with the nail shape, allowing you to do a lot of experimentation.
However, only naturally longer and stronger nails can be given coffin or ballerina shapes. So, if you have brittle nails, try ballerina acrylic nail shapes.
With this nail shape, you can choose a French manicure or go for some nail glitters or nude shades. For more opulence, choose wine red or dark purple as the nail shades in coffin nail shapes.
Short Fingers and Wider Palm: Get Oval, Round, or Almond Shaped Nails
If you have wider palms and short fingers, your hands are of grounded types. Oval, round, and almond shaped nails are the best for these types of hands. These shapes make the fingers look a little longer and demand very low maintenance. So, if you have a lot of household chores to manage or need to do a lot of typing every day, you have just found the right nail shape for you.
Don't go very opulent with the nail paints. Choose soft or neutral colors to create an aesthetic look.
Wide Fingers? Try Almond Shaped Nails
Almond nail shapes especially look great on wide fingers. The tapered peak at the edge and a wider nail bed make your fingers look slimmer.
This nail shape can be styled vividly. My favorite is the wavy or whimsical patterns. As the nail tip already has a shaper shape, slanted stripes and a little touch of glitter also will do wonders.
Stiletto Nail Shapes for Long Fingers
Every woman craves long and slim fingers. You have them! Try the stiletto nail shapes to add more poise to your fingers. Rapper Cardy B nailed the stiletto shape at the 2023 Grammys. Her pointed and shiny nails grabbed everyone's attention.
The best thing about this nail style is that it never goes out of vogue. Got brittle nails? Try stiletto acrylic nail shapes to enhance the look of your fingers.
Have Weak or Brittle Nails? Go for Round or Squoval Nail Shapes
There are a lot of reasons why you have weak or brittle nails. Too much or too less moisture can make your nails prone to breakage. At the same time, brittle nails indicate that you need to make some changes in your diet.
To improve the condition of your nails, try incorporating more vitamin C, Omega 3, calcium, and folic acid into your diet.
Nevertheless, if you have weak or brittle nails, round or squoval shapes are the best for you. These nail shapes keep the nail beds at ease. These nail tip shapes demand very little maintenance.
Also, even if your fingers are a little chubby and your nails do not grow easily, these shapes can give a minimalistic yet elegant look.
Final Words
There is no dearth of inspiration if you are looking for the best nail shapes for your fingers. You just need to know the type of hand you have and ensure that proper nail health and hygiene are maintained.
Also, keep your lifestyle in mind, as the nail style and shape flaunted by a pop star may not go well with your daily routine involving a lot of computer use and household work.
If you can't decide which nail shape to go for, keep it basic with simple round, oval or almond shapes. These shapes are chic and easy to maintain.
So, what nail shape are you choosing this time? Share with me and tell me about your ideas on different nail shapes. Or Hush! Let your fingers speak now!
Also read: