If you want a transcendental experience amid nature, Phi Phi Islands Thailand is the best place to visit.
Though there are no direct flights to Phi Phi Islands, you can take a flight to the Phuket International Airport or the Krabi International Airport.
Both these airports are located at around a 28.5-mile distance from the islands.
So, these islands are well-connected and sure to impress you with their beauty. Are you ready to get your Phi Phi Islands tour plan on point? Here are the best things you can do there.
Best Things To Do In Phi Phi Islands
Once you visit there, you will have much on your plate. You can go through the pages of history and be familiar with some cultural high points; the viewpoints are mesmerizing.
It's not easy to curate a brief guide for a trip to these islands as, at every turn, something is waiting for you.
Nevertheless, here are the 7 top things you can do during your trip.
1. Pay A Visit To Maya Bay
Have you seen the movie The Beach starring Leonardo DiCaprio? It was shot on the beautiful Maya Bay beach.
Phi Phi Leh, a small island in the Andaman Sea, houses this beach. You can have a relaxing and rejuvenating experience at this beach.
Further, once you are on the beach, the clear water reflecting the brightest Sunlight will remove all the fatigue.
The serene beach also has to offer you a pinch of drama with its limestone cliffs and a stretch of white sand surrounding the sea.
2. Hike To Phi Phi Viewpoint
Want some adrenaline rush for your vacay? Plan a hike to the Phi Phi Viewpoint.
You can start from the center of the island and take a steep route to reach the viewpoint. It will take around 30 to 40 minutes to complete the hike.
As you reach the top, you will find that the effort you have put in is more than worth it.
The panoramic view of the island will make you indulge in a spiritual experience. Further, you will get some of the best clicks for your socials.
Expert Tip
Carry adequate food and drinks while going for this hike.
Wear comfortable shoes so that cramps and strains do not occur.
In addition, start hiking in the early morning or afternoon to avoid excessive heat.
3. Take Part In Kayaking
Kayaking in Phi Phi Islands will offer you a mix of the most thrilling experiences along with a trip to history.
You can contact any of the reliable tour operators to conduct kayaking for you. As you sail through the coastline, you will discover many pristine beaches.
Viking Cave is the most popular destination for kayaking. There, you will see ancient cave art and rock formations.
In addition, you can explore the Bamboo and Mosquito Islands while enjoying kayaking.
4. Enjoy The Lavish Experience At The Best Phi Phi Islands Resorts
The Phi Phi Islands have many resorts where you can relax at the end of an eventful day. Equipped with all the modern amenities, these resorts will make your trip to the island unforgettable.
Some of the best resorts to visit in Phi Phi Islands are "Phi Phi Natural Resort," "Phi Phi The Beach Resort," and "Phi Phi Holiday Resort."
The first one has a Google Rating of 4.4/5, and the other two have recorded an impressive 4.3 rating.
5. Pay A Visit To The Marine National Park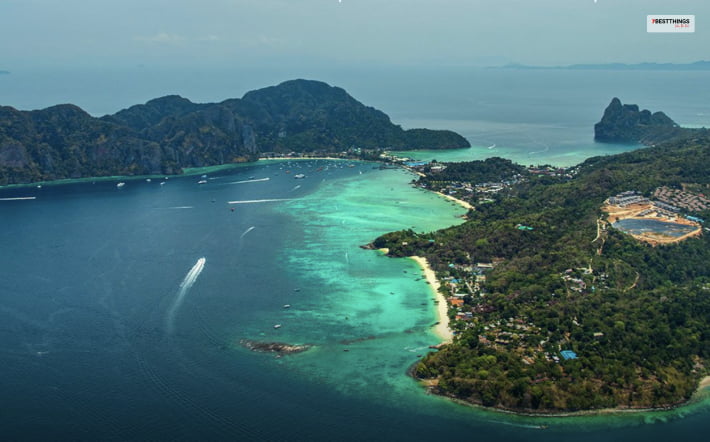 If you want to enjoy the islands' natural beauty at its best, you must visit the Marine National Park of Phi Phi Islands.
It houses six islands. So the features of the place and the natural beauty you can cherish are quite vivid.
Also, you can plan snorkeling in the Marine National Park to have a taste of the abundant marine ecosystem.
6. Enjoy The Nightlife of Phi Phi Islands
If you are in Phi Phi Islands, you have to soak into its vibrant nightlife. You will get the best clubs and bars here.
Along with the food and wine, the live music at the clubs and bars will keep you entertained.
Further, the best places to visit to explore the nightlife of Phi Phi Islands are the Ibiza Pool Party and the Apache Beach Bar.
7. Do Some Snorkeling 
These islands offer you a plethora of spots to explore.
Nevertheless, the best spot for snorkeling in Phi Phi Islands is "Shark Point." This space is great if you want to watch leopard sharks and different types of fish.
There is also an Anemone reef, where you will find unique creatures like moray eels and sea anemones.
Final Words
Visiting Phi Phi Islands can be a lifetime experience for you if you love the company of nature and enjoy adventurous sports.
Along with some fun outdoor activities, you can also take part in cooking classes to master the local cuisines.
So, when are you planning a trip to this beautiful place?
Frequently Asked Questions (FAQs)
Is There Any Airport?

There is no airport in the Phi Phi Islands. You will have to fly to Phuket or Krabi International Airport. Both these airports are located at around 46km distance from the islands.

Once you reach any of the airports, you can take a ferry service to Phi Phi Islands. 
How Can I Go From Phuket To Phi Phi Islands?

Phi Phi Islands are located around 46 km away from Phuket. The best way to visit Phi Islands from Phuket is by taking a ride on the ferry or speed boat.

It will take around 2 hours for you to reach Phi Phi Islands from Phuket. If you want to cut down your time, you can take a ferry service from Krabi. It takes around 1 hour and 30 minutes.
Which Season Is The Best To Visit Phi Phi Islands? 

The best tourist season to visit Phi Phi Islands is November to April. The weather is pleasant in that span despite light to heavy downpours occasionally. 
Also Read