The spine is one of the most attractive places on your skin where you can get a Tattoo. It gives you a large horizontal space of your body that you can often highlight.
However, spine tattoos may be cool they are also painful to get done. If you are getting small spine tattoos, they will only take you less than an hour, a medium piece takes around three to four hours. However, if you want to get a full-length spine tattoo, the process can take you a full day with several sessions.
So, if you are ready to get a tattoo on your spine, brace yourself. I have listed some of the great spine tattoo ideas in this article for you to check out. I hope you like them.
1. Lotus Spine Tattoos
Spine tattoos are a great way to show off the magnetic aspect of your body. But choosing a specific tattoo becomes difficult whether you are a woman or a man. If you are a woman and looking for spine tattoo ideas, then going with a lotus spine tattoo would be a great idea. In this tattoo, you have a lotus on the top of someone's body, and then there is the stem coming downwards your hip area.
You can decorate the stem area of the tattoo with different letters and words that carry a meaning you want to convey. But overall, a lotus as a spine tattoo is a great idea to show off your charms.
2. Tribal Spinal Cord Tattoo
If you want to get a tattoo that speaks to your viewers, then there is nothing better than a tattoo of the spinal cord. It is as if someone is seeing through your skin and looking at your spinal cord. This tattoo is made with thick and thin lines that give the viewer a perspective while the inker has another idea. The tattoo design gets a realistic touch with the masterful inking skills of the tattoo artist.  
The tattoo of a spine on the spine area shows a person's strength and capabilities and their abilities to stand their ground. If you are thinking of getting a tattoo that is both dynamic and symbolic, then you should get a spine tattoo. Both men and women can get a tattoo of this style.
3. Men's Japanese Dragon Spine Tattoo   
If you want a bold spinal tattoo, then you can consider a Dragon spine tattoo in Japanese tattoo style. The Hannya and Dragon are one of the most common themes of Japanese Tattoos. Both of these elements contain different meanings.
But above all, they have a common ground in terms of the meanings they convey. These elements are something that wards off omens and evil. Mixed with the Japanese traditional style, this type of tattoo makes use of bold ink and color to create a magnificent tattoo. If you want to get something as strong as japanese dragon tattoos on your skin (men or women), you can try this style.  
4. Text Spine Tattoo On Women
There is nothing sexier than a woman showing off a text tattoo on her sexy serpent-like spine. When done in X-ray style, a rose or a flower with large petals make a fine combination of text, and a flower makes up for a great tattoo. The translucent feeling of this tattoo gives a very dreamy, delicate, and light feeling. This type of tattoo also gives you lots of space to use the combination of text style and other elements.
Most importantly, you can use different quotes, texts, and lines from a movie or a song in these tattoos. Also, the spine gives you a large portion of your skin to make a tattoo on without breaking the line.
5. Alphabetic Spine Tattoos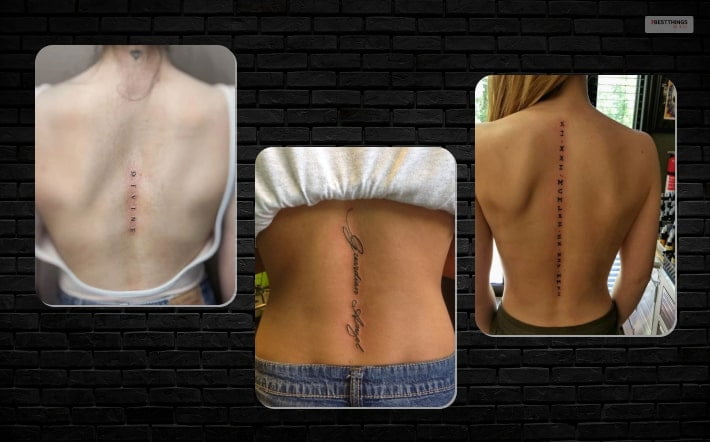 While many of us may want to get a quote tattooed on our skin, only a few think of trying different languages. Yes, be it a simple quote or a text tattoo on the spine, you can choose a different language, like Arabic, Chinese, or Japanese, to get an Enhanced visual feel.
The Arabic alphabetic system has an incredible beauty that curves well on your spine. But before you get Arabic letters curved on your spine, you should be clear and thoughtful about the meaning your tattoo is going to convey. It is always better to have a tie to the language you tattoo on. Otherwise, be clear about what the tattoo means if you are going for an Arabic tattoo.
But if you want other language options, you can go for Japanese spine tattoos or Chinese spine tattoos.
6. Snake Spine Tattoos   
Another popular themes among spine tattoos are snake spine tattoos. These tattoos are versatile, and they represent change, transformation, and rebirth across different cultures. Also, the serpent has such a form to fit through different parts of your body flexibly.
You can go for a tattoo that shows a snake coiled in the middle of the back. Or you can ink a snake that stretches across your spine while coiling around an object like a sword or something similar. You can amplify it with different elements like a skull and more.
7. Moon Phases Tattoo
If you are out of ideas about a spine tattoo, then how about tattooing the moon on your back? No, not just the moon, instead, you will have different phases of the moon tattooed vertically on your spine. It is a long vertical tattoo stretching from below your neck down to the pelvic area of your back.
The beautiful moon phase tattoo also symbolizes different aspects like femininity, power, knowledge, wisdom, and fertility. The different phases of the moon symbolize the different phases in someone's life.  So, clearly, it holds some meaning. So, if you are thinking of getting a spine tattoo and have something symbolic and mysterious as the subject of your tattoo, then a moon tattoo is a great choice.
Final Words
So, if you were looking for spine Tattoos, then this article has some references that you can try out.  All o the designs mentioned in this article are great and symbolic. No matter what your taste for tattoos is, you will find these spine tattoo ideas intriguing. However, if you have any queries related to the same, please leave them in the comment section. We will get back to you as soon as possible.
Read Also: