Who doesn't love to travel to far-off places and immerse in nature there? But since 2020 hit, all our hopes and dreams went on to hibernation mode, probably indefinitely.
But even though we can't go outside, you shouldn't feel demotivated about traveling. You can easily create a fun environment at home, and it would feel like a holiday. To enjoy the best of your indoor environment, why not plan a staycation?
Staycations are when you create a fun environment in your own house that would seem like the great outdoors. So you can make new memories on your vacation without even stepping outside.
What Is A Staycation?
I know all of you have heard the term "staycation," but do you know the staycation meaning? Most of you won't, but I'm here to help you out.
Staycation means when you go on a trip very close to home, or even stay at home itself and have a vacation. For a staycation, you don't require overnight travel or passports. They are not expensive at all and don't require much effort or planning.
Best Staycation Ideas!
There are a lot of ways you can think of fun things to do on vacation – like a staycation. When you are at home, don't think of what to do on vacation; instead, think of fun staycation ideas like the ones listed below.
1. Travel Through Your Tastebuds
If you love food and cooking different cuisines, then you are in for a treat (pun intended). When you can't travel the world around you, your tastebuds definitely can.
You can either order food from different cuisines or even make the food you always wanted to make. This is a staycation ideas for families, but it is a great staycation ideas for couples as well.
Smell the exotic aroma of the food and taste every bite and texture of the food and feel its taste. This way, you can really enjoy your staycation.
2. Take A Virtual Tour
Like me, it is your dream as well to visit the pyramids in Egypt and sway along the river Amazon? So what you can't visit there, you can always take a virtual tour at any time.
This can be exciting at home vacation ideas for the whole family. There are no borders or boundaries when it comes to virtual tours. Just turn on a virtual tour online and sit comfortably on a sofa with your favorite food and drinks.
3. Indoor Picnics Are The Aesthetics
Backyard staycations have been on trend since 2020, so if you have a beautiful backyard, why waste it. Take out a big blanket, pack a lot of food and go for a beautiful picnic in your backyard.
You can enjoy a picnic in any way possible, alone, with friends or with your family. And enjoy a relaxing time, swapping stories, jokes, and of course, food.
4. A Spa Day At Home
Who doesn't love a spa day! I know you do. So when you can't go to a local spa for some pampering, create an at-home spa. For couple staycation ideas, an at-home spa day can be great.
Prepare a bubble bath with essential oils, face masks, manicures, and pedicures to finish off the relaxing day. A spa day is not only very relaxing but, at the same time, gives you the right amount of pampering that you deserve.
You can even put on some soothing music and create a relaxing environment around you. This is both refreshing and relaxing among all the staycation ideas.
5. Backyard Movie Night
We all love to watch movies, but when the halls are all closed, then all you can do is have a makeshift theatre in your backyard. Just hang a white clean sheet on a clothing line and connect your laptop to a projector and play your favorite movie.
To make the most out of it, have some snacks and invite your friends over to relax and have fun together.
Read This: 7 Best Adventure Anime You Should Watch In 2022
6. Build A Fort Inside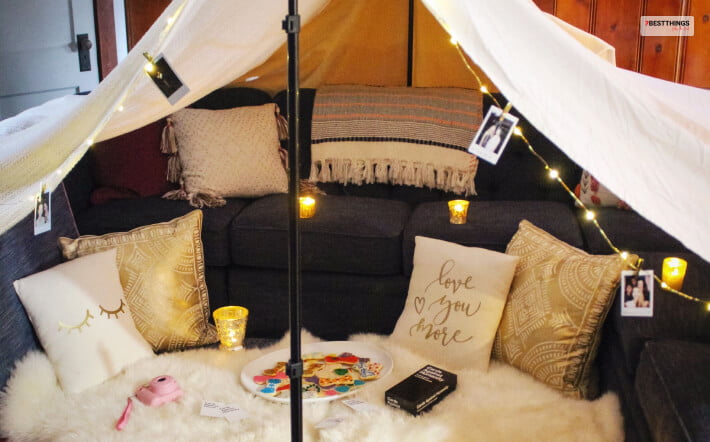 For a great staycation idea, why not just dive into our childhood days, and build a fort in your living room. Hang a few blankets up and decorate them with lights and cushions, and relive the nostalgic days.
You can do fun vacation activities there like watching a movie, reading a book or having fun with your friends.
7. Stargazing On The Rooftop
Who doesn't like to stare "up above the world so high" and look at the "little diamonds in the sky." Staring at these wonders of nature gives you the inner peace that you deserve after a hectic day.
To gaze upon these tiny stars, go up to your roof on a clear starry night, at lie down there. To make the moment even more romantic and magical, maybe have your partner up there with you.
Frequently Asked Questions (FAQs)!
1. What Is The Perfect Staycation?
The perfect staycation happens when you let go and just pamper yourselves. Take time off to relax, do a spa day, and order food that you always wanted to try. There is no formula for a perfect staycation; just do what makes you happy.
2. How Do You Make A Staycation Feel Like A Vacation?
It is actually really easy to convert a staycation into a vacation. You just need to stop doing whatever you do daily at home. Don't clean; stop working, and don't follow your regular routine. 
Rather, pamper yourself, take cute photos, and pick a theme for the staycation. Do the opposite of what you do daily.
3. Are Staycations Worth It? 
Maybe it won't actually feel like a vacation outdoors, but it is the best you can do to feel like you are on vacation. But with a staycation, you can save up money for an actual vacation someday.
Wrapping Up!
Staycations are a great way to unwind yourselves from your daily routine. And always remember, an adventure is never far away. You can have an adventure and a fun experience anywhere you want.
It's important to take time off for holidays and vacations, but when that's not an option, a staycation is the best alternative. Staycations are meant for some personal time with yourself and maybe your loved ones.
So next time you don't need to type on google " how to do a staycation," you will get all your answers here.
Read More: