Having a great layout in mind for designing your comfy yet stylish studio apartments in the USA is necessary. You should always wow your visitors just by showing them one single room.
Therefore, if you wish to do so, then read this guide to get some of the best design ideas for your single-room apartment. These are tried and tested designs that actually work.
7 Best Layout Ideas For Studio Apartments
The 10 best modern layout ideas for your studio apartments in 2023 are:
1. Binge Watching Should Be A Priority
Think about your daily life and what would make you happier at home when choosing where to invest your limited space. You'll determine the ideal arrangement for square studio apartments in this way.
Would you like to host some friends for Netflix? This New York City studio's resident gave up some bedroom and dining space to make place for a sizable living area fit for a binge-watching party.
Additionally, removable, peel-and-stick wallpaper is another concept to take from this flat if you're not allowed to paint your walls. It is simple to install and will spruce up plain walls without putting the security deposit at risk.
2. Room Dividers Do Help A Lot
A half wall can assist in separating your living and sleeping rooms while still maintaining a light, bright and airy feeling. Therefore, if you have the opportunity to make architectural adjustments to the layout of your studio apartments.
In such a room, sheer curtains, light colors, and a few small, recurring color highlights make the studio appear larger than it actually is. In a studio apartment, the dark peacock blue on the sofa and the wall across from the bed focus your attention on the common areas rather than the bedroom.
3. Your Room Should Look Like A Boutique Hotel Room
If your home is only a place for you to sleep and shower because you're constantly on the road, why not decorate your flat to resemble a chic hotel room?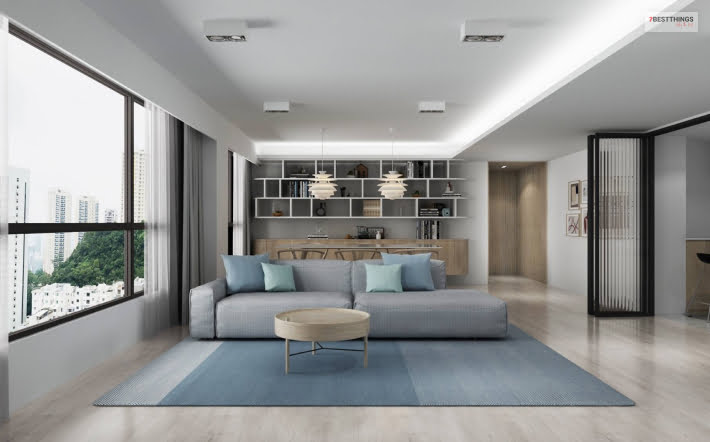 This layout for studio apartments should have a swanky kitchenette, a few pieces of retro furniture, and of course, a carefully organized minibar on the windowsill. All of these are conveniently located steps from the bed.
Instead of the standard 300-square-foot studio apartment, you should prioritize those small comforts that will make every day feel like a holiday.
Luxurious beds covered in impeccable sheets, as in any chic hotel room, is the highlight of such flats.
4. Decorate A Lot
Nothing surpasses the miraculous room-expanding abilities of low-profile, mid-century furniture for designing a studio or small space.
Mid-century studio apartments designs sit significantly closer to the floor when compared to many current forms, giving the impression that ceilings and windows are higher. The smaller pieces of furniture will make the room feel bigger and brighter.
5. Your Aspirations Should Be As Lofty As Your Beds
With lofty beds, you can create a spacious room if your home has ceilings that are pretty high. Additionally, it allowed for the creation of comfortable studio apartments with a plan.
Both furniture and walls are can be made white. Together, they create an open, breezy image by blending the ceiling's beginning. A bright, white interior is kept from seeming sterile by accents made of metal and leather.
6. A Double Duty Sofa Is A Must
You should use a double duty sofa as an example of how well-placed décor turned the small house into a cozy retreat.
The initial task was to design studio apartments that could be used for sleeping and socializing. The ideal place was cut out for a nicely designed bed that also serves as a sofa. The function is added by a slender desk and two tiny tables that don't take away from the openness of the space.
7. More Curtains, Please!
Want to feel secure and private at night? Would you rather your cozy studio apartments be used for entertaining rather than having guests peer into your bedroom? With a barrier, you can give your bedroom a more private vibe (this is one of our favorite small apartment ideas!).
From folding screens to built-in sliding doors, there are many options that will work. But this room divider curtain from White Stone Studios in Phoenix is simpler, and we like it better. To create two separate places, simply slide it closed at night or whenever you want to.
Conclusion
If you can cram in all of these ten layout ideas for your studio apartments, then it might just become the best one you and your visitors might get to see! Therefore, start incorporating these ideas one by one and see your room change drastically (for the best)!
If you have any other amazing studio apartment ideas that you wish to share, then please feel free to do so! Comment below your swanky ideas to create the most comfiest and luxurious single room apartments that is bound to make others jealous!
Read Next:
👉 Twilight Movies Vs. Books: 7 Interesting Differences Between The Two
👉 Bridgerton Season 3: Release Date Speculation, Latest News, And More!
👉 Never Have I Ever Season 4: Who Does Devi End Up With? [SPOILERS]