It's officially that time of the year! The year is about to end – from Spotify wrapped to the charm of the holiday season, it's almost like the year can't wait to end…and so can't we! With most of us going all 'new year, new me,' it's time for a fresh perspective, a new approach, and perhaps a traditional tattoo.
You might wonder why we said 'traditional' – guess what? The modern world might not be obsessed with traditions, but that doesn't mean we can't make art out of our traditions. Instead of following century-old conventions, it's better if you remember those traditions via art – and tattoos are art!
Keep reading to find out which kind of traditional tattoos will be trending in 2023 – yes, welcome to our new year tattoo trend predictions!
7 Best Types Of Traditional Tattoo You Should Follow In 2023:
Instead of typing different combinations like 'traditional tattoo flash' on Pinterest or Google, it's better if you save this article! When you are convinced about getting a traditional tattoo done, then come back for the inspiration you will need at that time!
While 2022 was all about 90's style and abstract tattoo trends, 2023 is going to be all about minute details, and there's one celeb you need to thank for this one. Tattoo artist Syd Smith said in this context,
"People are switching up the types of tattoos they get because of influence from others, for example, Hailey Bieber…Her hand tattoos are some of the most common photos I receive for inspiration, and it has definitely been influencing other people."
So without wasting any more time, let's check out some of the best types of traditional tattoos you will need in 2023.
1. Traditional Tattoo Trend: Micro Hearts
Micro hearts have been ruling everyone's hearts forever. Whether it's your phone cover or your tattoo, micro hearts are as traditional as it gets! If you are planning on getting a traditional tattoo that's not flashy or too much, then opting for these cute hearts can be a great way to start 2023!
Here are some minimalist ideas!
2. Traditional Tattoo Trend: Aesthetic Birds
If micro hearts have been around for some time, then so have been birds. But we wouldn't recommend a lot of birds – that just doesn't look good, traditional or not! Instead, opt for birds that look visually aesthetic on your body – what's the point of getting a tattoo if it doesn't look great?
Here are some aesthetic birds for inspiration!
3. Traditional Tattoo Trend: Micro Realism
2022 was big on hyper-real tattoos that came with extensive detailing. But gone are those days – and the new year is ready for a new trend. How about opting for micro-realism instead? Realism is a pretty traditional concept – micro-realism, in that case, is an inspired version of realism. Plus, visually, these look really cool!
Here are our favorite tattoos inspired by micro-realism!
4. Traditional Tattoo Trend: Cyber Sigilism
Cyber Sigilism has become recently popular – so we can only expect the trend to get bigger in 2023. There's nothing traditional about getting a cyber sigil tattoo. If you do want to get a meaningful traditional tattoo, then steer clear from cyber sigil tattoos. But if you are up for some modern twits to this traditional journey, then cyber sigilism is definitely for you!
Here are some crazy ideas!
5. Traditional Tattoo Trend: Surrealism
Is there anything more traditional than surrealism? We don't think so! The perfect blend of dreams and reality – and what better than a traditional tattoo with surreal vibes? If you are not convinced, you really need to check out kickass surreal tattoo art – and trust us on this one, you will be convinced.
Here are some of the top surreal tattoo ideas!
6. Traditional Tattoo Trend: Cultural Inspiration
There's nothing cooler than getting a traditional Japanese tattoo if you really do want to get a traditional tattoo done! Why not imbibe some cultural aspects to the body art you are paying for – plus, you are not just investing in terms of money, you are also investing your time. And it's your body!
Here are some ideas!
7. Traditional Tattoo Trend: Geometrics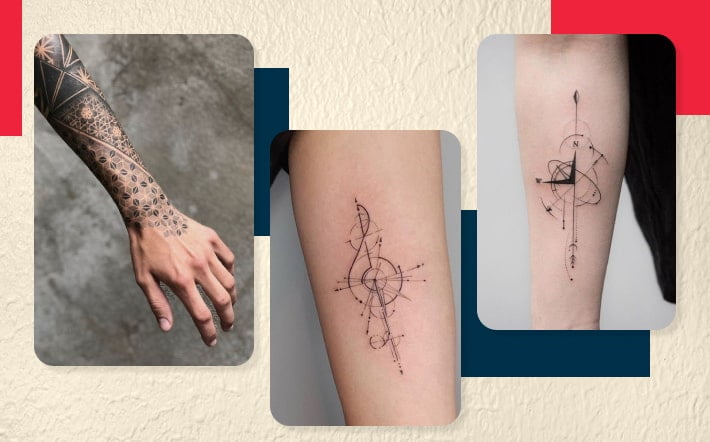 There's nothing better than the Geometric trend, especially when you are looking for the perfect traditional tattoo for the new year. Geometrics is one evergreen trend that has managed to survive for the past many decades. Plus, these look so much cooler – what do you guys think?
Here are some trendy ideas!
Bonus Section: What Tattoo Artists Have To Say?
Instead of asking, 'what is neo traditional tattoo,' just get one and find out for yourself! Anyway, jokes apart! Welcome to the bonus section of the traditional tattoo trend. Here we bring to you some of the finest words of wisdom from tattoo artists across the globe. Yes, it might seem irrelevant, but then it's not!
How can we keep on talking about art without hearing what the artists have to say? Right? So scroll down and check out our favorite sayings from tattoo artists!
Words By Spider Webb:
"Tattooing, when understood in its entirety, must be seen as a religious act. The human being brings forth images from the center of the self and communicates them to the world. Fantasy is embodied in reality, and the person is made whole."
Words By Cary G. Weldy:
"With deeper awareness, our art reveals what energies we are bringing into our lives, as well as what we need to heal."
Words By Shelly Dax:
"Some of the pain that clients experience is likely from not knowing what to expect. They approach their appointment with tension and nervousness, and they tend to hold their breath when they first get started. As soon as a client relaxes and breathes normally, the tattoo pain becomes minimal."
Words By Douglas Kent Hall:
"Tattoos tell stories of crime and passion, punishment and regret. They express an outlaw, antiauthoritarian point of view and communicate romantic solidarity among society's outcasts."
Words By Joshua Lipton:
"Inking without a plan gives Booth freedom to explore the desires of those seated in his chair, he says, to feed off their energy, allowing his clients` demons to help guide the needle."
Frequently Asked Questions (FAQs):-
Check out the most frequently asked questions related to getting a traditional tattoo mentioned below.
Q1. What's The Most Popular Tattoo In 2022?
Ans: The most popular tattoo trends of 2022 are as follows,
⦿ Red ink,
⦿ Fine Line,
⦿ 90s +,
⦿ Tribal art, and
⦿ Tattoo freckles.
Q2. What Are The Tattoo Trends In 2022?
Ans: The top tattoo trends of 2022 are as follows,
⦿ Mandala,
⦿ Chakra,
⦿ Buddha,
⦿ Lotus, and
⦿ Hamsa.
Q3. What Are The 5 Major Types Of Tattoos?
Ans: The 5 major types of tattoos are as follows,
⦿ Classic Americana,
⦿ New School Tattoo,
⦿ Japanese Tattoo,
⦿ Portraiture Tattoo, and
⦿ Biomechanical Tattoo.
Q4. What Are The 10 Most Popular Tattoos?
Ans: The 10 most popular types of tattoos are as follows,
⦿ Dolphins,
⦿ Butterfly,
⦿ Celtic Symbols,
⦿ Dragons, and
⦿ Wings.
And It's A Wrap!
So are you convinced about getting a neo-traditional tattoo? In that case, what are you waiting for? The new year is around the corner, and how about introducing a tattoo to your new-me personality? It will look quite good, and also it's all about doing something new. Don't think about the pain – since it's not painful to get at least one cute tattoo!
In the meantime, tell us your thoughts on these tattoo ideas. Don't forget to share your experiences about the same in the comments below.
Read Also: