Abundance is the word that goes well with Krabi, the capital town of Krabi province, Southern Thailand.
Flocked by fewer travelers, this quaint little place has managed to maintain its pristine charm. Nature is present here with all its glory.
You will see the stunning limestone cliffs, diverse wildlife, and lush jungles. It's also the place to be if you are a fan of wildlife adventure. 
Want to know more about this exotic place? Here's a guide on the best things you can do in
What Are The Things To Do In Krabi?
From rock climbing to getting engrossed in meditation, Krabi has a lot to offer to you. You can also enjoy some serious adrenaline rush with scuba diving, hiking, snorkeling, and learning Muay Thai lessons.
Honestly, it's difficult to pen down or capture the beauty of Krabi on such a small scale. Still, I am sharing the seven activities I enjoyed the most at Krabi.
1. Hit The Beaches 
Krabi is known for its exotic beaches. However, I enjoyed my time at Railay Beach the most.
The limestone cliffs at the beach are breathtaking, and after some initial hiccups, I could manage to reach the Railay viewpoint. The view of the beach and turquoise blue water from the cliff top is transcendental, to say the least.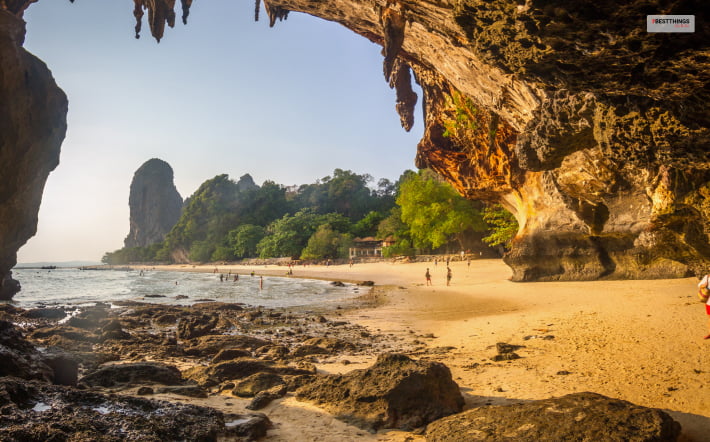 Another Krabi that impressed me was the Phra Nang beach. It has blue water and all the quintessential elements of being a beautiful sore. However, for me, the most fascinating thing on this beach has been the Phra Nang cave.
Once I entered the princess shrine in the cave, I felt like being connected to the history of the land. Stories have it that the princess was a fisherman's wife, and she was killed in a shipwreck.
At this shrine, you have to make offerings resembling the shape of male genitalia.
2. Visit The Most Beautiful Hong Island
I can never have enough of the rustic charm of the limestone cliffs. The changes in their appearance with subtle movements of light are as exciting as watching the Moon changing its shape.
So, I enjoyed my time at this Krabi island and the tranquil beauty of the Hong Lagoon will also stay with me for the longest time.
3. Relax At The Best Krabi Resorts 
Are you traveling with your family? You will need a staying place with all the modern amenities. Krabi has many luxury resorts. Here, I will talk about the two most popular resorts in Krabi.
Spend Some Time At Rayavadee Krabi
Are you searching for Krabi Rayavadee? The most exotic resort with seven villas and 94 two-storied pavilions stands out because of its natural beauty.
Rayavadee Krabi also stands out as being "in the heart of Phranang Peninsula."
In addition, this resort is an excellent place if you are planning excursions and adventure activities.
Amari Vogue Krabi Is A Great Place To Relax
This is another resort where you can enjoy the ultimate comfort and relaxation. Also, you will get a private beach to spend quality time with your loved ones. 
4. Gorge On Delicious Street Food
Are you a foodie like me? My trip to Krabi will also remain special as I had the best local food there. Let me tell you the ones you must try.
Krabi is like heaven if you have a liking for Thai food. You can have the best prawns and crabs here with an infusion of local spices. The one local food I could have for the umpteenth time was crab rice. With crab meat melting in my mouth and the right spice balance, it was like a flavor blast in my mouth!
I also saw many people having stingray curries. I am not that adventurous when it comes to food. So, I missed that.
One tip I would like to share here. If you want to make the most of the local cuisines, contact a travel guide who knows about the history and specialty of Krabi food.
5. Play A Visit To Phi Phi Islands 
Phi Phi Islands is a must-visit if you are in Krabi. The Krabi International Airport is just 28.5 miles away from this exotic place. I took a ferry to reach Phi Phi Islands from Krabi.
As I reached Phi Phi Islands after around 45 minutes, the place offered me the best adventures and experiences in the midst of nature.
My most memorable experience there was snorkeling at the shark point. The anemone reef and colorful schools of fish were out of the world.
6. Go For Snorkeling 
If you are in Krabi, you cannot miss snorkeling. Especially if you are hitting the Bamboo Island, you must try it. 
This island is located to the south of Krabi mainland. The water here is translucent, creating a sense of intrigue. You will also get to see the reefs off the coast of the island.
If you are planning a trip to the Bamboo Island, you must do so when the humidity is comparatively lower on the island. The best time to visit this place is between November and March.
You have to take a ferry boat or a speed boat to reach Bamboo Island from Krabi.
The place is less populated. So, I felt like enjoying the best time at a private beach where I could enjoy the best of the marine ecosystem.
Overall, snorkeling at Bamboo Island was like exploring and having a lot of fun!
7. Meditate At Wat Kaew Ko Wararam
Buddhist relics and Buddhist temples have always been my go-to place for some spiritual rejuvenation. In Krabi, I got to visit Wat Kaew Ko Wararam.
With its excellent architecture, the place will mesmerize you. You will also get to pray and meditate at this sacred place.
Final Words
Krabi is like an eclectic traveling destination, offering you a mixed bag of experience. From gastronomic delight to spiritual moments, it has plenty to impress its visitors.
Along with the personal favorites I have shared here, there are other places of attractions like the Tiger Cave Temple, Shell Cemetery, Krabi Hot Springs, etc.
So, there is a lot to explore, and you can set your itinerary based on your travel duration and area of interest.
Wish you a happy trip to Krabi!
Also Read