English writer Samuel Richardson says, "Where words are restrained, the eyes often talk a great deal." Can't agree more! So, with the right makeup, your hooded eyes can be the perfect expression of your beauty and persona.
From Selena Gomez to Paris Hilton, every celebrity with hooded eyes uses this unique feature to their advantage, creating more extensive looks.
Need some inspiration? Here you go!
What Are Hooded Eyes, Btw
Some people have a little extra skin beneath their eyebrows. So, when the eyelids open, the skin beneath the brows tends to droop on and cover the upper eyelids.
With the upper eyelids covered, hooded eyes look smaller than their actual size. Also, because of the droopiness, those have sleepy or tired expressions.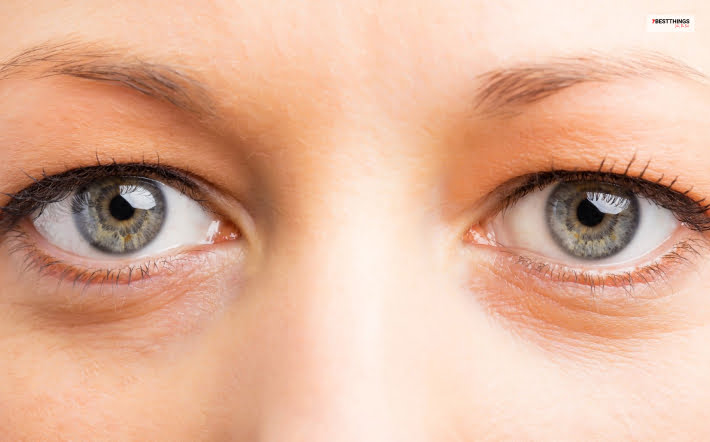 Many people go for eyesurgery for hooded eyes or blepharoplasty to get rid of this issue permanently. But why take an invasive way when some simple makeup hacks can make your eyes look bigger and better?
Makeup Tips to Make Your Hooded Eyes Look Better
We need to pick the right eyeshadow or eyeliner for hooded eyes and do the makeup right to make the droopy eyes stand out. Simple tips can help you to experiment with makeup for droopy eyes and create minimalistic or opulent looks.
Also, here are some words of advice! Keep your eyes open while doing the makeup. When your eyes are open, you know how to draw the eyeliner or apply the eyeshadow properly. If you do the makeup with closed eyes, the defining eyeliner line may get hidden, or the shadow blend may look out of place. It's because it's hard to guess how much coverage your hooded skin will offer once you open your eyes.
Pick Your Primer Right
Extra baggage on eyelids? A big No-No for hooded eyes! So, a primer that is lightweight and gets applied smoothly on the eyelids.
You can also use a setting spray or powder so that the primer stays on the eyelids for longer and does not cause transfer once the eyeliner is applied.
Choose the Right Eye Shadow for Hooded Eyes
The best eye shadow for hooded eyes should include various shades. You need to do a lot of blending.
Keep the lighter and brighter shades for application on the inner corners and lid bases of your eyes. Want some bling? The shimmery powders are also great for your droopy eyes. Once you have applied the eyeshadow on the inner corners and eyelid bases, the blending needs to be done outward.
Now, it's the turn for the darker shades in your eyeshadow palette. Apply any of them on the outer corners of your eyes and move your brush upward. As the darker shades are blended upward, and toward the crease, the sagginess beneath your eyebrows will be gone.
Your brows will look lifted, and your eyes bigger!
Choose a Fine Tip Liner for Hooded Eyes
Do not let the liner for hooded eyes be overwhelming. The main idea is to create a fine line on the lid with a winged look at the corners. The fine line will enhance the shape of the eye, while the winged look will create a little drama.
Also, a fine-tip eyeliner will ensure that the line does not get transferred to your eyelid and create a mess.
If you are confident to carry something more unique, go for white eyeliner to make your eyes look bigger.
Highlight the Brow Bones or Stick to Some Matte Shades
If you pick matter shades or shimmers for highlighting your brow bones, your hoody eyes will look lifted and bigger.
The simple trick is that applying something brighter or softer allows the light to get reflected more. Thus, the attention is shifted from the excess skin below your eyebrows, and the droopiness is gone.
Pick a Waterproof and Smudge-Proof Mascara
Whether you have hooded eyes or not, waterproof and smudge-proof mascara is a must for your eye makeup. Get mascara that stays for long hours and does not get messed up with tears or excessive humidity.
Also, when you pick a waterproof mascara, the eyelashes are firmly curled upward and remain in that condition for long hours. Further, the mascara adds volume to the upper and lower eyelashes. So, your eyes get a defined look.
Balance the Look with Your Lower Lash Line Makeup
If you have hooded eyes, you need to be extra careful about the makeup of your lower lash line. Choose an eyeliner in a darker shade and a fine tip to define the lower lash line. Use a soft eyeshadow shade and blend that properly so that a honeyed effect is created.
You can even apply eye pencils or kohl pencils in darker shades to define your lower lash lines and create a sense of balance in the overall look.
Curl Your Eyelashes
You can curl your eyelashes to make your hooded eyes look bigger and more "open." Take an eyelash curler and move the eyelashes upward before you apply the mascara.
And as mentioned, choose a mascara that adds volume to the eyelashes and lasts longer.
Is There A Way To Fix Hooded Eyes Naturally?
Yes, there are some easy tricks to fix hooded eyes. These are home remedies that reduce the droopiness of your eyes.
Use Chamomile Tea Bags
In recent times, chamomile has emerged as a magical solution for multiple problems. Chamomile is not just good for inducing sound sleep. It is also great for fixing your hooded eyes naturally.
Do you want to know how to use chamomile tea bags to get rid of droopiness? Here is the step-by-step guide.
Keep the chamomile tea bags in the fridge.
Leave them for around 15-20 minutes.
Compress your eyelids with these cold chamomile tea bags.
Follow this routine regularly for a few days to see a reduction in the droopiness.
Chamomile has anti-inflammatory properties. Further, it can strengthen the skin. So, you can try this remedy at home.
Did You Know Cucumber Slices Are Great To Get Rid Of Hooded Eyes?
Many times, you must have seen people placing cucumber slices on their eyes for relaxation and rejuvenation. It's time to use those cucumber slices to get rid of your hooded eyes. How do you use cucumber slices to get rid of droopy eyes? It's very simple.
Place the cucumber slices on your closed eyes.
Make sure that the cucumber is chilled before you cut the slices and place them on your eyelids.
Leave the slices like that for around 20 minutes and then remove them.
You can repeat the process every day, and cucumber promotes a reduction in the droopy appearance of your eyes thanks to its anti-inflammatory and skin-tightening properties.
How About Making A Homemade Lotion To Fix Droopy Eyes?
You can make a lotion at home and see a remarkable improvement in the droopy appearance of your eyes. You will need some ingredients to make the lotion. Here are the things you will need.
Two tablespoons of oatmeal
Three to four slices of cucumber
Aloe vera gel of four tablespoons
Four tablespoons of regular yogurt
Blend all the ingredients together and apply to your eyelids. Keep the lotion for 15-25 minutes. Wash the lotion properly with cold water.
Use Ice Water To Get Rid Of Hooded Eyes
In certain conditions, ice water can be of great help in getting rid of droopy eyes. Cold water alleviates the sagginess of the skin, and it will make the skin tighter.
Eat Grapes To Fix Droopiness Of Your Eyes
You can eat grapes to get rid of the droopy appearance of your eyes. Grapes come with resveratrol, which can stop cellular aging.
Final Words
Your eyes are beautiful! So, don't feel shy or embarrassed about your hooded eyes. If you want to enhance your eyes or make them look expressive, the simple makeup tricks I have shared can do wonders.
You can also take inspiration from celebrity makeup looks and fuse your creativity into it to find the best style for you.
Share your eye makeup ideas with me, and I will be very happy to try them.
Frequently Asked Questions (FAQs)
Are Hooded Eyes Attractive?
Yes, hooded eyes are attractive, just as all eyes are! Every type of eye needs the right makeup tools and tips for a more enhanced look.

So, if you want to improve the look of your hooded eyes, use fine-tip eyeliner, a smudge-proof mascara, and the right blend of eyeshadows.
How Do I Make My Eyes Look Less Hooded?
You can make your eyes look less hooded with simple makeup tricks. First, use a primer on your upper lid and apply a thin line of eyeliner. Then, use a curling tool to move your eyelashes upward. Next, apply a mascara that does not get smudged.

And don't forget to do makeup on your lower lash line and blend the lighter and darker shades of eyeshadow.
How to Do Makeup on Very Hooded Eyes?
The main trick to doing makeup on very hooded eyes is keeping everything minimalistic. Choose an eyeliner that helps create fine lines above the lash lines and highlight your browbones.

Using mascara on curled-up lashes and blending the lighter and darker eyeshadows are other tricks to make your hooded eyes look extensive.However, if you are not happy with the looks even after using these makeup tricks, you can go for hooded eyes surgery.
Also read: