Tinder is perhaps one of our favorite online dating platforms. If things don't work out on the platform, it sure takes us a comic turn. So one day we were just getting bored – and what better than Reddit to help us chase that boredom? Enter Tinder Reddit threads that are hilarious!
Do you love reading funny Reddit threads as well? Since this is Valentine's month, it's only fitting that we add a slight touch of love. So for today, let's check out the best Tinder Reddit threads of all time!
7 Best Tinder Reddit Threads That You Need To Checkout Right Now!
The other day we had so much fun discussing the best Reddit threads of all time. And today, we are going to do something very similar, but with a nice, cute, Valentine's Day touch. Yes, we are here to talk about our favorite tinder stories on Reddit.
So without wasting any time, scroll down and check out some of the most hilarious Tinder Reddit threads of all time – stay tuned till the very end because the best ones are always in the end.
We Are Just Friends:
One of our favorite reddit tinder threads has to be the hands down 'I am only on Tinder to make friends' logic! Dude, nobody is on Tinder to make friends. Everyone's on Tinder for you-know-what which is precisely why we found this thread funny.
While looking for the best Tinder Reddit thread, we stumbled upon a classic one. And trust us you will find it equally funny. And don't hesitate if you feel like commenting on this thread – it's hilarious!
The Tragedy Of A 6'4″ Guy:
If you love reading stuff on Reddit then there's no way you have never come across the popular r/tinder account. This popular account keeps making everyone who is new to Reddit question, 'is reddit a dating app?' – LOL! NO! But it has potential…
One thread that this account posted was the story of a guy who's apparently 6'4″ – he got a lot of swipes but then things didn't really turn out for him as you would have expected. So what happened? It's the meme that delivers some of the best tragicomedies on Reddit. 
Too Vegan To Date?
You don't have to Google 'tinder openers reddit' – nah, instead just check this Tinder Reddit thread out and you won't be disappointed, especially if you are vegan. Being vegan is a choice and who likes being judged for their choice? Well, nobody and this is exactly what went wrong in this opening conversation.
The thread is about a guy who's vegan and when he shared his eating preferences with his potential Tinder date, she kinda freaked out, or rather, she was 'turned off.' That definitely did not go well with the guy and well, he posted about it. What do you guys think? Too vegan to date?
4. Too Right To Date?
If too vegan wasn't your cup of tea then too rough might just seal the deal on your date night. This Tinder Reddit thread is just killing it – you know why? Because it's so damn relatable. Haven't we all wondered at least once – what the hell are we doing on Tinder even?
Disappearing matches. Disappointing conversations. And sometimes messages like this can make most of us uninstall the platform. Yes, we know you found love on the platform and that is what we all thought we might too. But then comes the bananas even when we like our fruit salads with those yucky bananas. 
5. Flaky Women(?) And Tinder, An Epic Saga!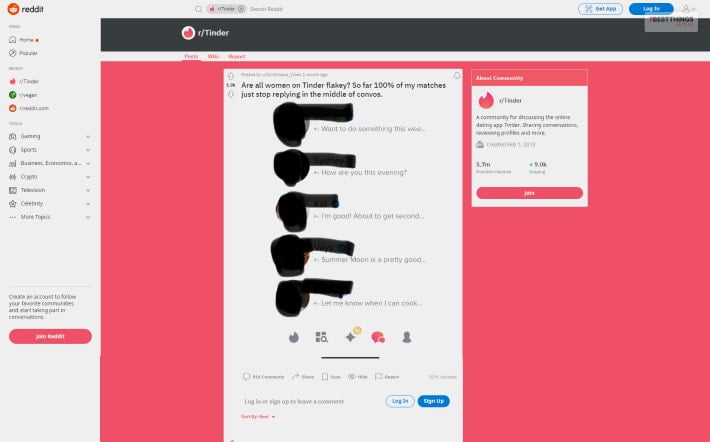 Trust us, you don't need to check for Reddit Tinder pickup lines. Instead, these threads are enough to make you laugh out loud. More than laughter it's the sheer bliss of finding out you are not the only one. It's relatability that drives humor in love, or rather the lack of love.
This thread too makes you relate on a different level. This guy posted a screenshot of how all his Tinder matches were flaky. Since his matches were women, the blame yet again falls on us, ladies. So, buckle up and tell us the truth – how it's not us but it's them really.
6. Too Weird To Be True:
What's your limit of 'too weird to be true?' This Tinder Reddit thread is definitely too weird to be true. But it's true…as long as nobody tampered with the screenshot that was originally posted by the particular Reddit account. But we are going to believe it's true no matter how hard it is for us XD
Yes, we have come across very weird stuff on both Tinder and Reddit but we never came across such a weird opening message. The Reddit account couldn't help posting 'what the hell did I get messaged on Tinder?' Forget about funny Tinder bio Reddit threads and check this one out now!
7. Meet My Mom?
While looking for 'tinder swindler reddit' threads we stumbled upon a cute Tinder Reddit thread! It was really cute and again, very very very RELATABLE! In this thread, a young 18-year old woman just asks a very basic question.
'Is it weird to ask my Tinder date to meet my mom before I go into his car?'
Come on, haven't we all been there…and thought that? So why can't Gen Z just step up the whole game and just do it? We are all for it because come on ladies, we know the importance of safety. So why discourage people from being unsafe? So we say YES to meeting the mom – what about you?
And It's A Wrap!
And that's a wrap on the most hilarious Tinder Reddit threads of all time. You might not agree with us and that's honestly fine as long as you share some of your favorite Reddit threads related to Tinder with us!
Tell us what are your thoughts on these threads. And while doing so, feel free to share your Tinder experiences with us in the comments below.
Read Also: