There's no denying that we, as millennials, are currently undergoing a creative period accompanied by a love for cultural extravagance. And the popularity of the Chicano tattoo trend is the evidence that we needed before making such an elaborate statement. The stylish grandiloquence, meaningful designs, and sheer spirituality make the trend even hotter.
Are you planning to hop on the Chicano tattoo trend? Are you planning to get inked soon? You have come to the right place. Stay tuned to find out about Chicano tattoos – spot the ones that speak the most with you!
Exploring The Chicano Tattoo Trend: 7 Best Trends To Follow In 2023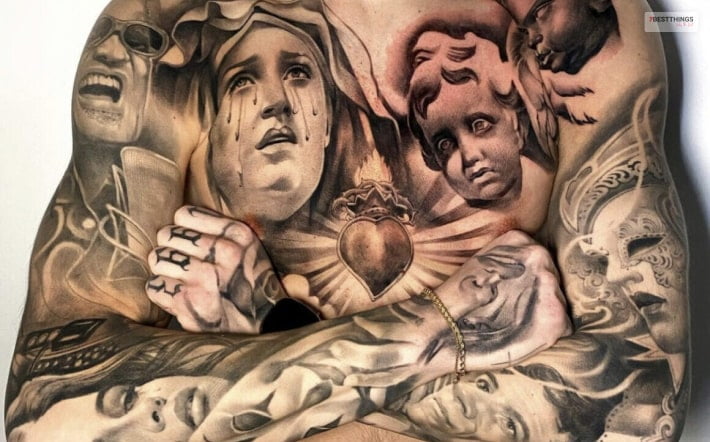 While we recently spoke about the traditional tattoo trend, we didn't talk about the Chicano tattoo trend. These tattoos are currently trending, and we can't ignore these tattoo ideas anymore. So without wasting any time, scroll down to check out the best Chicano tattoos that you can get inked right now – stay tuned to find out!
1. 'La Chica' Chicano Tattoos:
Pinup girls have been a common tattoo design element for decades. If you are looking for a Chicano style tattoo design that's popular and traditional, then you can definitely experiment with the 'La Chic' style. In this style, artists use gray and black ink with a realistic approach to creating stunning art.
Plus, these designs are very eye-catching, especially as compared to other Chicano-inspired designs.
2. Chicano Religious Tattoos:
The Chicano-style tattoos are very similar to the broader category of tribal tattoos because the designs are often symbolic of struggles. Naturally, if you want your Chicano tattoo to be done in the religious style, then you gotta be careful about your designs. Our favorite Chicano-style religious designs are as follows,
Virgin of Guadalupe,
Christ the Redeemer,
Mother of Christ, and
Crucifixes.
These tattoos are exceptional. So if these designs speak the most with you, then this is exactly what you need on your body in 2023!
3. Neo Classical Chicano Tattoos:
While you might think the Chicano smile now cry later tattoo funny and adorable, have you given neo-classical Chicano tattoos any thought? Characterized by gray and black ink, these tattoos are the result of smooth shading, fine lines, and, more importantly, expert application. These are reminiscent of stone visages and stern gazes from ancient Greece.
Neo-Classical Chicano tattoos are instances of how real art can metamorphose into stunning gray and black tattoos.
4. Full Back Chicano Tattoos:
It is highly possible that one tattoo might not be enough for you – you are either an I-have-only-one-tattoo kinda person or an I-have-tattoos kinda person. Trust us, there's no in-between! So if you relate more to the second category of people, then have you thought about a cohesive, all-encompassing design?
Plus, the sheer potential of these tattoos is crazy confident, especially from the design point of view. If you are a fan of face tattoos, then it is possible that you will love these cohesive designs.
5. Chicano La Catrina Tattoos:  
Jose Guadalupe Posada is an early 20th-century printmaker and cartoonist who created a character called La Calavera Catrina. The character was created as an entertaining jab at rich Mexicans adopting European indigenous roots. In spite of such a political origin, Catrina evolved to become a Day of the Dead symbol, and today, it's a popular tattoo design element.
These tattoos are very similar to how the Japanese dragon tattoo originated. Of course, these tattoos come with their own set of interpretations.
6. Angel Chicano Tattoos:
The Mexican Catholic tradition shapes the Chicano tattoo trend in a way that angels have remained the most common element in the world of designs. At the same time, angels might also have a deep significance both in prison life and on the street. But today, these tattoos have come to life today.
If you have been looking for gangster Chicano girl tattoo designs, then these angel-style tattoos are what you need in 2023.
7. Chicano Girl Clown Tattoos:
One of our favorite Chicano tattoo is the Spanish 'Payasam' or the female clown. There's this street philosophy 'laugh now, cry later.' The whole concept was utilized to represent the simple necessity of hiding your weakness from different enemies that people might come across on the streets.
You can experiment with stylized sexuality and even opt for pinup girls to get inked. If you love these tattoo designs, then why wait?
Frequently Asked Questions (FAQs):– 
Check out the most frequently asked questions related to the Chicano tattoo trend mentioned below in detail.
Q1. What Does A Chicano Tattoo Mean?
Ans: The Chicano tattoo style revolves around the classic themes of religious figures, skulls, women, and flowers. There's no doubt that, generally, the Chicano tattoo style is somewhat like the Pachuco cross, and that, too, is right between the fingers and thumb. Originally, this was like a symbol for identifying gang members and expressing loyalty towards each other.
Q2. Why Do People Get Chicano Tattoos?
Ans: In the Chicano culture, the member of the community actually has to earn their tattoos. These tattoos symbolize how people have overcome struggles – getting your body in this community is sacred. But the Chicano community is not the only community that looks at tattoos with such a spiritual approach – there are other communities as well.
Q3. Who Is A Famous Chicano Tattoo Artist?
Ans: A few famous Chicano tattoo artists are as follows,
⦿ Freddy Negrete,
⦿ Tamara Santibañez,
⦿ Chuco Moreno,
⦿ Chuey Quintanar, and
⦿ Mister Cartoon.
Q4. What Is The History Of Chicano Tattoos?  
Ans: Chicano tattoos first originated in the 1940s from the intensive Pachuco gang culture. In the 1950s, other gangs from New Mexico, California, Arizona, and Texas father improved this concept. These tattoos are done originally by hand with the help of sewing needles dipped in the then-popular Indian ink.
And It's A Wrap: Time To Get Inked!  
The Chicano tattoo trend is raging right now! And if you love getting inked, there's no point delaying the process. If you have never been inked before, then obviously, we would suggest you take some time and think your decision through.
A tattoo is mostly permanent, and that's precisely why you choose a design you really, really, really like. So tell us, what do you think about these tattoos? And while sharing your thoughts, don't shy away from telling us about your tattoo art experiences in the comments below.
Related Reading: